Ball of Flowers
Respectful Ladies and Gentlemen!
Participants of the Ninth World Congress for Psychotherapy!
Dear Colleagues and Friends!
We gladly invite you to the Ball of Flowers!
June 24, 2022, Moscow, Izmaylovo
... Today's the night of revelations, secrets,
We welcome you to join the fairytale.
Our masquerade for you is open, no one's missing:
Put on your masks and dance this night away…
The Ball is a feast of ethics and nobility!
The sense of honor, justice and duty, the value of the Motherland as a way of feeling the whole world, fostered by many generations, is respectfully enclosed in the most beautiful event called "Ball"!
Nowadays, in the 21st century, the Ball remains being a Great Modern Event that inspires the new, modern art of communications.
Through the traditions of the past, Freedom of the Soul comes to us, and at that moment the Future is perceptible in us, it reflects our costumes and smiles. We are stepping into this bright future and fully embrace it.
The eternal art of beauty shows itself behind the nuances of our diverse individuality, the art that serves Beauty! And beauty is the happiness of wielding a shape. The Shape is to be possessed by everything, by all living things in order to exist.

The art of the ball is a story about the happiness of our existence of ours, about us being unique and differing beings unified in the beauty of communion and in the dance of body.
The ball will be long remembered by its emotional intensity, where motives of expectation and joy will be mixed. During the traditional intimate dance between two partners, a fateful explanation, impossible in any other situation, may occur. At this celebration of Style, Elegancy, Fashion you will collect Your flower Bouquet of "Love", "Respect" and "Pleasure"!
At the gala-evening, surprises, riddles and recreational activities await. It will be comfortable for you to visit "His Majesty Ball" with your family, relatives and friends. The atmosphere of the ball has been sparkling with remarkable soulfulness for many years in a row, and is fascinating for the guests of all ages and professions.
There is no need to worry if you are not a skilled dancer — our magnificent dancing-masters are ready to teach you the basics of ballroom dancing and to make you fall in love with the magic of dance art. «His Majesty Ball» provides a proper setting to fulfill your creative ideas and initiatives — we welcome you to propose a spot, a performance in any style and any genre (dance, music, singing, poetry, paintings and special photographs demonstration, theatrical etude, toasting speech, etc. The time for each performance is 7 minutes).
We'll see you at the Ball, dear respectful Colleagues and Friends!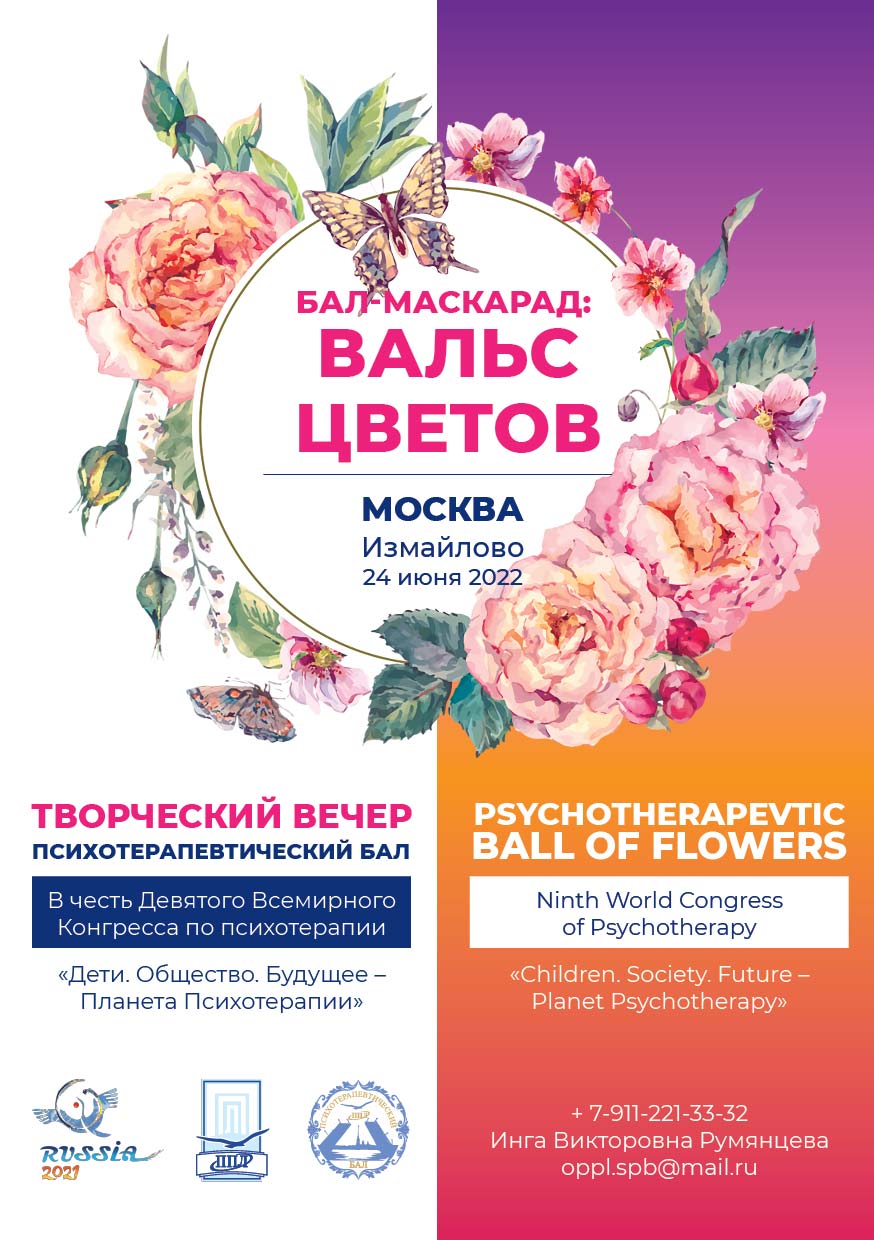 Psychotherapeutic Ball of Flowers
Within the program:
Appearances of the honorary guests of the Congress
Ballroom dance workshops
Choreo and variety turns from invited performing artists
King and the Queen of the Ball
Best creative attire contest
Banquet
Presents to the guests
Dress code: white tie, black tie, festive. We welcome masks and creative attires.
Venue:
Hotel and Congress Center «Izmaylovo Gamma-Delta»
Moscow, Izmaylovskoe shosse 71, building 4 G-D (Gamma-Delta, 3 floor), (Partizanskaya metro station).
Hosts:
Inga Rumiantseva and Alexander Zhukov
Event begins at 18.30 and ends at 23.30
Registration and payment in advance is required
Costs:
If paid before January, 15 — 5000 rub.; Before February, 1 — 5500 rub.; Before March, 1 — 6000 rub.; Before April, 1 — 6500 rub.; Before May, 1 — 7000 rub.; Before June, 1 — 8000 rub.; Before June, 15 — 8500 rub.; From June 15 till the day of the Ball — 9000 rub.
Dance couples attending the Ball together receive 1000 rub. discount.
Please indicate
«World Congress Ball 24.06.2022 attendance fee» when paying.

1 Euro is approximately 70 rubles, costs may vary due to exchange rate fluctuations.
For inqueries and Ball registration please contact us via email:
Lora Dezhinova
+7 (919) 957-58-99, e-mail:
Inga Rumiantseva
+7 (911) 221-33-32, e-mail: