Abbas MAKKE (LEBANON)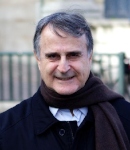 Professor Abbas Makke is the vice president of WCP — representative of the Machrek area, the president of the Lebanese Society of Practitioners and Consultants in Psychotherapy (SPPC) and a member of the French Federation for Psychotherapy (FF2P).
Abbas Makke is also a professor of fundamental psychopathology at the Lebanese University, a researcher of fundamental psychopathology, integrative approach — Analytico-Systemic Model (M.A.S) — introduced in the IJPCP in 2018 — and the author of many books on applied psychopathology.
As the founder and president of Tabyeen International center for training and psychological consultancies, Abbas Makke leads on a continuous training program on the Analytico-Systemic model, and in collaboration with IEFSH in Brussels, he supervises a training program on Systemic Therapy that he elaborated with Prof Mony El Kaïm in 2009 and adapted to the requirement and standards of the European Family Therapy Association (EFTA) of which Tabyeen International is a member.
Abbas Makke is also an expert in criminology, group therapy and institutional analysis. He provides technical support to a number of non-governmental organizations working under the auspices of the Lebanese Ministry of Public Health, developing and leading on training programs, informed planning and research and monitoring and evaluation programs for mental health experts, in line with his mental health programs at Tabyeen International.
Abbas Makke is the president of the "World Regional Congress" organized every three years by Tabyeen International under the auspices of the WCP and the Lebanese Ministry of Public Health. (2015 Congress: Psychotherapy, Medicine, and Cultural Transmission; 2018 Congress: Psychotherapy, Ecosystems and Environment; …)".