Aleksandr BONDARENKO (Ukraine)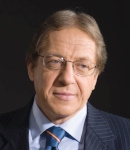 Dr., Prof. Aleksandr Bondarenko is a practicing psychologist, counselor, and social therapist. He specializes in therapy emotional traumas, individual and couple counseling, diagnostics of socio-psychological climate in companies and organizations. Aleksandr Bondarenko is an expert in counseling and providing psychological help for different categories of clients in Ukraine and beyond. He also offers training services to practicing psychologists in Ukraine and other countries He is a winner of the "For Scientific Achievements" award from the Ministry of Education and Science of Ukraine. He was also awarded the Grygoriy Skovoroda medal issued by the National Academy of Pedagogical Sciences of Ukraine.
Aleksandr Bondarenko started his psychological career as a research fellow at Kiev Research Institute of Psychology in 1978. Later he won the position of a lecturer at the Department of Psychology at Kiev National Linguistic University (then Kiev Pedagogical Institute of Foreign Languages) where he combined lecturing with research and counseling. Aleksandr Bondarenko is Doctor of Science (General Psychology) since 1993, Professor since 1995, Head of the Department of Psychology at Kiev National Linguistic University since 1994. He is a founder and scientific advisor of the Inter-University Center for Counseling, Professor of the Department of General and Clinical Psychology at Kiev National Medical University. He was also a visiting professor at London University (the Maudsly Institute for Psychiatry), Leiden University (Laboratory for Study of Autism) and Moscow City Psycho-Pedagogical University (Faculty of Counseling and Clinical Psychology). In 2009-2014 Aleksandr Bondarenko was a Vice-President of the Professional Psychotherapeutic League of Russia (PPL). Since 2002 till 2012 he was a member of the Expertise Board of the Supreme Certificate Committee of Ukraine.
Aleksandr Bondarenko is a renowned researcher. He is the author of «Ethical Personalism» Conception and Methodology of Psychological Counseling, officially recognized by PPL in 2010. He has more than 250 publications, including 2 individual monographs and 4 collective ones, quite a few handbooks and popular books on Psychology. Aleksandr Bondarenko is also the author of three diagnostic methods: the method of defining hidden causes of conflicts in organizations; that of Semantic Differential Scale for orienting in a client's personal growth potential and a questionnaire for diagnosing a victim status holder in interpersonal relations. He was a publisher and editor-in-chief of the «Journal of Practicing Psychologist» (issued since 1996 to 2014). He is also an Editorial Board member of a number of Ukrainian and Russian periodicals, including "Counseling Psychology and Psychotherapy", «Medical Psychology in Russia» online magazine and others.
Aleksandr Bondarenko is a prominent Ukrainian educationalist. He was awarded the title of the Honored Worker in Education of Ukraine. In 2016 he was elected a full member of the National Academy of Pedagogical Sciences of Ukraine (Psychology, Age Physiology and Defectology section).
A populizer of scientific and counseling Psychology, Aleksandr Bondarenko takes part, on a regular basis, in TV and radio programs, his column "Conversations with a Psychologist" in printed and online media being very popular with the readers.