Alexander ALEKSEYCHIK (Lithuania)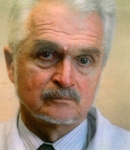 Alexander Efimovich Alekseychik (born 1940), MD, awarded title the Honored Doctor of Lithuania; for many decades the Head of Department of Borderline Disorders at Vilnius City Mental Health Center.
Dr. Alekseychik was one of the first psychotherapists in the USSR and the founder of his own existential therapy approach «The Intensive Therapeutic Life». He was the first who started practicing existential bibliotherapy. In his work, he widely uses medical, psychological, philosophic, legal, religious and theological, as well as fiction.
For over 40 years, Dr. Alekseychik has been leading the annual Vilnius April seminar on psychotherapy, where the formation of many famous existential therapists working in the ex-USSR countries occurred, for example, R. Kociunas — Lithuania, S. Yeselson — Russia, G. Mikkin — Estonia, A. Lelik — Ukraine, G. Idrisov — Kazakhstan.
Dr. Alekseychik is an honorary member of the Russian National Association of Existential Consultants and Therapists, an honorary member of the East European Association of Existential Therapy.
The most significant books by Dr. Alekseychik are "Therapy by Life" and "We Live Once, But Every Day."