Alexander KOCHARIAN (Ukraine)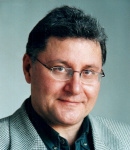 Alexander Kocharian is psychologist-psychotherapist, consultant and supervisor.
A. Kocharian has graduated A.M. Gorky Kharkiv State university in 1982. In 1987 has graduated Ph.D. in A.A. Zhdanov Leningrad State, in 1992 awarded the rank of associate professor, in 1996 awarded doctorate in Taras Shevchenko Kiev National university, in 2001 the title of professor was conferred. Since 1989 works in V.N. Karazin Kharkiv National university, at the beginning as a senior lecturer, then associate professor of psychology, and from 1997 as a professor of the Department of Applied Psychology. Since 2006 head of the department of counseling and psychotherapy.
Published 242 scientific works, including 4 monographs, 4 textbooks (one has three international editions in «Piter» publishing house), 7 manuals. He is the author of a number of psycho-diagnostic methods.
Alexander Kocharian is a well-known expert in the field of sex role psychology, theory and practice of client-centered psychotherapy. A. Kocharian founded in Ukraine a scientific field of medical and psychological research — gender role identity of the person, the form of its disorders, as well formed school of sex role psychology. He developed and substantiated concepts of sex role symptom complex and «emotional coldness symptom complex of personality», the principle of processuality in client-centered psychotherapy, psychotherapeutic subverbal model and the idea of personality space topology.
Under the guidance of A. Kocharian reserved 37 Ph.D. theses, he is working in two specialized academic councils. Since 2010 is the chairman of the Dissertation Council at the V.N. Karazin Kharkiv National University. A. Kocharian is the chief editor of scientific and practical journal «Psychological counseling and psychotherapy», and takes part in editorial boards of five professional journals.
Alexander Kocharian's work is noticed by the professional community. In 2012 A. Kocharian was awarded with a Medal of the Ministry of Education and Science, Youth and Sports of Ukraine, «the Flagship of Education and Science.» In 2012, his name was entered into the fund of outstanding scientists of Ukraine «Elite of the state». In 2014 he was awarded the title of Academician of the Higher Education Academy of Sciences of Ukraine, in 2015 — Academician of the European Academy of Natural History. Winner of the competition «Higher School of Kharkov — the best names» in the nomination «Teacher of professional-oriented disciplines» (2008), received the award named after V.N. Karazin III degree (2014), received State Administration scholarship named after V.N. Karazin (2016). Earlier he received a grant for execution of international scientific research program at RSS Central European University (Prague).
He is a well-known expert in the field of client-centered psychotherapy. Member of the European Association for Psychotherapy (EAP), included into a unified register of psychotherapists in Europe, co-chairman of the section «client-centered therapy» in the Professional Psychotherapeutic League. The head of the Ukrainian public organization «Institute of client-centered and experiential psychotherapy.»