Anna LELYK (Ukraine)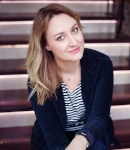 MPsych, MA in Philology.
President of the Ukrainian Association of Existential Consultancy and Therapy (UAECT).
Certified Existential Consultant (according to the International partnership of existential consultants (IPEC)).
Lecturer and therapist at the International Institute for Existential Counseling (MIEK).
Head of the Kiev branch of MIEK.
Existential therapist, private practice.
Editor of the family journal «Familia».
For many years was a psychologist-consultant of the largest volunteer center in Ukraine "Youth is not indifferent".
Author of monographs:
"Youth is not indifferent", Kiev, 2010;
"The science of the soul or "unmodern psychology", Kiev, 2011;
"We are called upon for good deeds", Kiev, 2013;
"In search of the present", Kiev, 2016;
"How are you?", Minsk, 2019;
"BibliApteka", Kiev, 2020
Author of numerous articles on existential therapy and counseling.