Courtenay YOUNG (UK)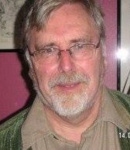 Courtenay Young is a relatively well-known United Kingdom Council for Psychotherapy (UKCP) & European Association of Psychotherapy (EAP) accredited psychotherapist; a Body Psychotherapist; and a UK-NHS counsellor and supervisor. He lives and works near Edinburgh, Scotland. He is an Honorary Member of the European Association of Body Psychotherapist; and a member of the British Psychological Society.
He has been very active for many years within professional associations of psychotherapy, like the EAP and is interested in and involved with the politics of European psychotherapy. He has been instrumental in writing the EAP Statutes, the EAP Training Standards and the European Certificate of Psychotherapy documents, the EAP's Statement of Ethical Principles, and he was also lead writer for the EAP's 2010-2013 project to establish the Professional Competencies of a European Psychotherapist (www.psychotherapy-competency.eu)
He has attended and presented at many international congress and conferences on psychotherapy over the last 35 years; given seminars and workshops; and often helping with the organization and publishing conference proceedings.
He is a founder member of the US Association for Body Psychotherapy and was recently elected to the International Scientific Committee (ISC) of Body Psychotherapy. He is also a member of the Science & Research Committee of the EAP and of EABP.
He is the current Editor of the International Journal of Psychotherapy, and has been on the editorial board of other journals (like the Journal of Body, Movement & Dance in Psychotherapy). He has written numerous published articles — all available on his website (www.courtenay-young.com); has written two published books; has edited several other books on psychotherapy, the most recent being The Handbook of Body Psychotherapy & Somatic Psychology (North Atlantic Books, 2015); and he is now editing and publishing a series of books on Body Psychotherapy.