Domingos NETO (Portugal)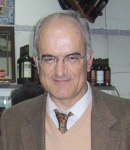 Domingos Neto (MD, Ph.D) is a psychiatrist who gave contributions in two distinct matters: Emotional Psychotherapy and Substance Abuse Treatment.
For 25 years he holds the position of Visiting Assistant and Visiting Professor at the Chair of Psychiatry and Mental Health of the Faculty of Medical Sciences of Lisbon.
He has been the Director of the Drug Prophylaxis Study Centre (5 years), where he introduced Emotional Psychotherapy, and of the Regional Centre of Alcohology of the South of Portugal, for another 12 years.
He Introduced Emotional and Bonding Psychotherapy in Portugal, since 1988, for the outpatient and inpatient treatment of Emotional Disorders.
He is the founding member of the Portuguese Association of Emotional and Bonding Psychotherapy, and is the current President of the European Society of Bonding Psychotherapy since 2013-10-29. He is President of Alcoholics Anonymous of Portugal since 2016-03-19.
He published 65 articles and four books on subjects of psychiatry, alcohol, drugs and Emotional Psychotherapy.