Eliza SWEENEY (France)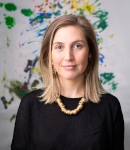 Eliza Sweeney is an Australian drama therapist, creative arts therapist, teacher, director, editor, producer, scenographer, researcher and artist, based in Paris, France.
She has an honours degree in Performing Arts from Monash University. She studied at the International Theatre School Jacques Lecoq, and under Philippe Gaulier from 2009 — 2011. She graduated with first class honours from the University Paris Descartes, La Sorbonne in in 2017 with a double professional and research masters in dramatherapy.
She is the director of MILPERA (www.milpera.org), an international not-for-profit organization that promotes mental health and sustainability through creativity, education and the arts psychotherapies. She is treasurer of The Maison des Arts Therapies, a second not-for-profit art therapy organization.
She is the founder of The Creative Health Space Paris, her private practice: www.creativehealthspace.com, where she works with children, adults, families and in perinatal care. She works in child protection for the city of Paris and has previously worked in adult and paediatric psychiatry, specialising in dissociation and trauma, in socio-educational settings, in social work, and in professional training programs.
She is a lecturer at the University of Caen (France) in the Masters of Psychology program where she teaches the theory and application of the arts psychotherapies.
She was the French representative in the European Federation of Dramatherapy, where she was a part of the European Federation research subcommittee in 2017 and 2018. She is involved with the Australia Dramatherapy Association, NECTA and she is a professional member of ANZACATA (since 2019) and is currently pursuing her HSPC registration in the UK. She participates regularly at European, French, Australian and other international conferences on dramatherapy most recently in the UK, Belgium, Germany, Romania and France. She is a future PhD Candidate researching the impact of space on human behavior, emotions and unconscious ideas in relation to the global environmental crisis, in creative arts therapy settings.