F. Jak ICOZ (Turkey)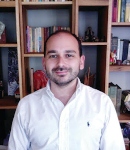 Founder and Clinical Director of Existential Academy of Istanbul, Chair of Association for Existential Psychotherapies in Turkey (EXISTanbul), M.A. in Clinical Psychology, M.Sc. in Internation Management, DCPsych candidate in Counselling Psychology and Existential Psychotherapy.
F. Jak Icoz is a clinical psychologist in private practice working individuals and groups in Istanbul, Turkey. Having studied at Österreichisches Sankt-Georgskolleg Realgymnasium u. Handelsakademie, Istanbul Bilgi University, Vassar College, and University of Liverpool (M.Sc. in International Management), Jak continues his doctoral studies in existential psychotherapy at New School of Psychotherapy and Counselling in London, UK. He is a faculty member in Psychology at Istanbul Bilgi University's clinical psychology grad programme.
Previously completing trainings in Psychoanalytic therapy, Logotherapy, Gestalt therapy, Psychodrama and Hatha Yoga practice, Jak is one of the founder of Existential Academy of Istanbul that offers the first and only comprehensive training in existential therapies in Turkey.
He translated many books from authors like Sigmund Freud and Arthur Schopenhauer, edited many books including Turkish titles of Emmy van Deurzen's books. His first book on the reflections of existential ideas in daily matters is in press.