Gabriella Sorgi (Italia)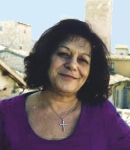 Psychotherapist since 1979, international trainer of Existential Analytical Psychotherapy, training analyst, sociologist, existential anthropologist, sophianalist.
She researches in the fields of human sciences and theoretical-clinical fields.
She founded (respectively in 1981 and 2003) the I.P.A.E.A. and I.A.S.S.C. (now C.I.A.C) Institutes, for the development of psychotherapy as art and Counseling.
She created the method of the Analytical Theatre Dance as original declination of psychotherapeutic theater as well as the Anthropoartistic Theatre Dance as a bridge between science, culture and reality.
She is Director and full Professor of the I.P.A.E.M. — School of Specialization in Psychotherapy recognized by the Italian Ministry of Education and University.