Galina MIKKIN (Estonia)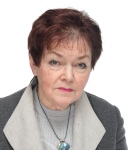 PhD in psychology. Studying of psychotherapy at the post-graduate centre for physicians in Bechterev Psycho-Neurological Institute, St-Petersburg; studying of Existential Therapy at the Humanist and Existential Psychology Institute, Lithuania.
Lecturer in psychology at Tartu State University, associate professor at Tallinn University, Estonia. Lecture courses on Social and Personal psychology, Crisis & Burnout Prevention, Group & New approaches in psychotherapy.
Author of proprietary communicative training methods using video recording and video-feedback (video-trainings). Co-founder of the first school in the USSR educating psychologists-coaches of communication training courses.
Conducting and organizing annual training courses for psychologists-consultants from Estonia, Ukraine, Lithuania and Russia at Tallinn University. Working as existential and art therapist with disabled and for the "hot-line" workers at Tallinn Crisis Center.
Ex-leader of Humanist Psychology Section at Estonian Association for Existential and Humanist Therapy; Work on Prevention of the Professional Burnout Syndrome. PHARE-LIEN Program — micro-project "The Cultural Reintegration Service for Ethnic Minorities in Estonia."
Guest Lecturer at st-Petersburg State University, Russia — working with students and psychologists at post-graduate education faculty. For the last 20 years have working asa visiting professor for students at the International Institute of Existential Counseling "MIEK", in Russia and Ukraine.