Gianfranco BUFFARDI (Italy)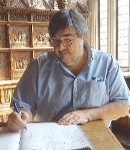 MD, Ph.D., is a professor of psychotherapy in various institutions, including ISUE, psychiatrist, practicing existential therapist. He holds degrees in medicine, psychology, philosophy, and bioethics. Dr. Buffardi is the former Director of a Mental Health Unit in Maddaloni (Caserta), Italy, and is the founder and president of the Istituto di Scienze Umaneed Esistenziali (Institute of Human and Existential Sciences) in Naples, Italy.
He is the author of the Manuale di Counseling Esistenziale (with F. Brancaleone, SEAM, Rome, 1999), Helping: The Helping Professions from Existential Anthropology to Philosophical Counseling (with F. Brancaleone, & G. Traversa, La Melagrana Caserta, 2008), and his writing has been published in a number of professional journals, including the Journal of Geriatrics and Gerontology, Existential Analysis, and Dasein. The last essay with Ernesto Spinelli is "Dialogues on the search of meaning, SEA Edition, 2019, London.