Gideon MENDA (Israel)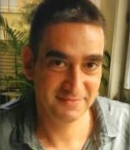 Gideon Menda is a Doctor for existential psychotherapy, an existential psychotherapist, lecturer and a supervisor. He is the founder and head of the post-graduate existential psychotherapy programme at Kibbutzim College in Tel-Aviv, Israel. He works in his private practice and leads the development of existential psychotherapy in Israel.
He is a founding member of the Israeli Multi-Disciplinary Association for Psychotherapy, a founding member of FETE — Federation for Existential Therapy in Europe; and co-founder of EPCI, the Existential Psychotherapy and Counselling Community in Israel. He develops training psychotherapy courses and manages the practical training of existential psychotherapists in various health and welfare institutes in Israel.