Ingeborg KÜNZ (Austria)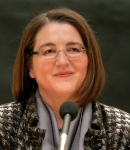 Ingeborg KÜNZ, Ing., Mag., Dr., psychologist and psychotherapist in Austria. She is one of the founder members of the Federation for Existential Therapy in Europe (FETE) as well as a board member. She was also chair of the FETE organizing committee of the 1st European Existential Therapy Congress in Vienna (april, 2019).
In addition to her work as a consultant and existential psychotherapist she has experience as a research assistant at the University of St. Gallen (Swiss) and as a Corporate Training & Development Manager in an international Swiss company as well as a board corporate member of an industrial Austrian company.
Together with Alfried Längle, Ingeborg Künz is also co-author of the book "Leben in der Arbeit? Existentielle Zugänge zu Burnout-Prävention und Gesundheitsförderung".