Ingrid PIRKER-BINDER (Austria)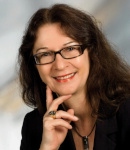 MMAG. Dr. Ingrid Emilie Pirker-Binder takes leading positions in various industry sectors — she is an Owner and manager of BiCo Institute, now named STRESS-OUT (Since 1998), Lecturer at University of Applied Sciences IMC Krems, Lower Austria (Since 2004), practicing psychotherapist (since 2005), Owner and manager of Center for Corporate Health in Austria (since 2008), Sworn and judicially certified expert for psychotherapy (since 2009), Owner and manager of Biofeedback institute (since 2010), Lecturer at "Landsteiner Privat Universität" Krems, Lower Austria (since 2016).
She received academic training in studies in commercial sciences (up to 1978, Vienna, Austria), in educational sciences (up to 1999, Vienna, Austria), in psychotherapy: existential analysis & logotherapy according to Viktor Frankl (up to 2005), Value-oriented imagination according to Böschemeyer (2005), EMDR (Eye Movement Desensitization and Reprocessing, 2008), Ph.D at Sigmund Freud University Vienna (2015), PITT (Psychodynamic Imaginative Trauma Therapy) according to Dr. Luise Reddemann (2017).
Dr. Ingrid Pirker-Binder is a member of International Stress Management Association (Austrian Section), Association for Applied Psychophysiology and Biofeedback, European Association for Applied Biofeedback and Neurophysiological Treatment, and European Association for Psychotherapy.