Irene CHEGWIN DE DELGADO (Columbia)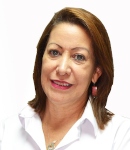 Lawyer and Psychologist with master in Existential Phenomenological Psychotherapy. She was born in Barranquilla, Colombia, South America in 1961.
She has been the Director of PEP Corporation in Barranquilla, Colombia for 22 years. University teacher and trainer of groups of professionals to spread and teach the Existential Perspective of life.
Active member of the Latin American Existential Psychotherapy Association (ALPE) and the current member of the Board of ALPE Colombia.
Married 40 years ago, mother of two daughters and grandmother of two little boys.