José CASTILHO (Ireland)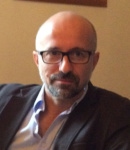 José Castilho — originally from Brazil but residing in Ireland since 1991.
José trained as psychoanalytic-psychotherapist in the Irish Institute of Psychoanalytic Psychotherapy which is in association with the MSc programme of Psychoanalytic Psychotherapy of Trinity College, Dublin.
He is a member of The Irish Analytical Psychology Association (IAPA), the official professional body representing Jungian psychology in the Irish Council for Psychotherapy (ICP) He has private practice in Dublin, and he also works as psychotherapist for the Gay Men's Health Services (GMHS), a public health service primarily for men who have sex with men (MSM) and transgender persons.
José has taught on different programmes of counselling and psychotherapy in Dublin. He is the former chair of The Irish Council for Psychotherapy (ICP), and currently on an advisory role for the Council on issues related to Statutory Registration, membership and standards of training and practice. He is also co-chair of the European Training Standards Committee (ETSC) and a member of the executive of the European Association of Psychotherapy (EAP).
He has a long term interest in dance and movement, particularly Butoh as a way of accessing and exploring the unconscious.