José Paulo GIOVANETTI (Brazil)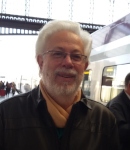 Retired Professor at Universidade Federal de Minas Gerais (UFMG), currently Full Professor at Jesuit School of Philosophy and Theology (FAJE).
Graduated in Philosophy from the Nossa Senhora Medianeira Faculty of Philosophy (1974), graduated in Psychology from the Federal University of Minas Gerais (1981), specialization in Philosophy from the Federal University of Rio de Janeiro (1975), master's degree (1983), doctorate (1986) and post-doctorate (1991) in Psychology from the Université Catholique de Louvain.
Author of numerous articles in various journals, and the books "Phenomenological-existential psycho-therapy: philosophical-anthropological foundations" and "Anthropological psychotherapy. Binswanger and Gendlin Contributions".