Katerina ZYMNIS GEORGALOS (Greece)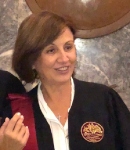 Katerina Zymnis Georgalos, Ph.D in Clinical psychology. Family, group and individual psychotherapist. Founding member, trainer and supervisor at The Hellenic Association for Existential Psychotherapy, gignesthai and at the Hellenic Association of Positive Psychology. Member of the board of FETE (Federation for Existential Therapy in Europe). Chair of the FETE organizing committee of the 2nd European Existential Therapy Conference in Athens (2020). Co-chair of the organizing committee ofthe 3rd World Existential Therapy Congress in Athens (2023).
Katerina Zymnis Georgalos was born and grew up in Buenos Aires, Argentina. She lives in Athens, Greece, since 1980.
Katerina works as a psychotherapist with individuals, families and groups and as a trainer and supervisor at gignesthai. She is a consultant in private multinational companies offering seminars and workshops in personal and group development.
Katerina is invited to teach at post graduate programs at Panteion University of Social and Political Sciences, at the University of Thessalia, and at the National Kapodistrian University of Athens.
Her area of interest in research is the process and outcome of psychotherapy as well as the use of qualitative methods of data analysis. Her doctoral thesis is a research project that focuses on the helpfulness of psychotherapy and the factors that are conducive to change as viewed by clients. She has contributed with her writing in several books and articles related to existential therapy and psychotherapy process and outcome.