Maria BORCSA (Germany)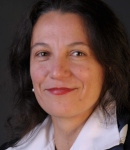 Maria Borcsa is a Ph.D., Professor of Clinical Psychology, Licensed Psychological Psychotherapist (CBT), Family Therapist and Supervisor.
Founding member and member of the executive board of the Institute for Social Medicine, Rehabilitation Sciences and Healthcare Research, University of Applied Sciences, Nordhausen; Founding member of the European Family Therapy Research Group (EFTRG). Co-editor of the Austro-German journal «Systeme» (2001-2014) and of the journal "PiD — Psychotherapieim Dialog"(since 2007); Founding editor (with P. Stratton) of the EFTA Book Series, Springer Intl.; Associate editor of the Encyclopedia of Couple and Family Therapy, Springer Intl. Board member of the Systemic Society — German Association for Systemic Research, Therapy, Supervision and Counseling (2005-2011); Board member of the European Family Therapy Association (EFTA)(2007-2016); Chair of the chamber of National Family Therapy Organizations in EFTA (2010 to 2013); President of EFTA(2013-2016); President of the 9th conference of EFTA, Athens 2016.
Speaks German, English, French, Hungarian and some Romanian.
Recent publications:
Borcsa, M. & Stratton, P. (Eds.) (2016). Origins and Originality in Family Therapy and Systemic Practice. EFTA Book Series Volume 1. Springer International.
Borcsa, M. & Rober, P. (Eds.) (2016) Research Perspectives in Couple Therapy. Discursive Qualitative Methods. Springer International.