Mohammad KHODAYARIFARD (Iran)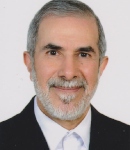 Mohammad Khodayarifard is a professor of Clinical Child Psychology at the University of Tehran.
His main research interests focus on psychology of religion, positive psychology and psychotherapy.
He served also as the Dean of the Faculty of Psychology and Education from 2016 to 2018.
He is a board member of the World Council for Psychotherapy (WCP) and an invited speaker at the 8th World Congress for Psychotherapy (Paris, 24-28 July 2017). Also, he is the keynote speaker at the International Association for the Psychology of Religion (IAPR) Conference (Hamar, Norway, 21-24 August 2017). Dr. Khodayarifard was also a keynote speaker at the Congress on Mental Health (Moscow, 7-8 Oct 2016). At the end of this conference, he received an award for Distinguished Contributions to the Global Mental Health. Also, he was the Scientific Committee President of the World Congress for Psychotherapy (Asian Chapter),Tehran, May,18-20 2016.
His honors and awards include Outstanding Researcher at the 22nd and 23rd Research Festival of the University of Tehran in 2013 and 2014,Outstanding Professor in the 2nd International Congress of the Recent Research Outcomes in Medical Sciences in 2011, Excellent Applied Research Project at the 10th Festival on Research in the University of Tehran in 2009 and 2010,Best Research from Minister of Culture and Islamic Guidance in 1999 and 2006, Best Article at the 1st International Congress on Religion and Mental Health in 2001.
He is the main author of more than 90 published scientific articles. He has also authored 16 books. He has presented over 60 papers and workshops in Iranian and international conferences.
For more information regarding Dr. Khodayarifard's academic, research and carrier history, please visit his personal web page at the following link: psyedu.ut.ac.ir