Mony ELKAÏM (Belgium)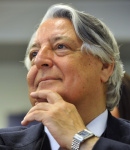 Maïmonid (Mony) Elkaïm, M.D., is a psychiatrist and a psychotherapist. He is a Honorary Professor at the Free University of Brussels and consultant at the department of psychiatry of the Erasmus University Hospital, Brussels.
He is the Director of the «Institute for Family and Human Systems Studies»(Brussels) as well as of «ELKAIMFORMATIONS» (Paris), the President of the French speaking section of the «Belgian Group of Systemic Psychotherapists Trainers» and of the "Training Institutes Chambers" of EFTA, and the Honorary President of the European Association for Psychotherapy (EAP — Vienna).
He is also an approved supervisor under the Founders Track of the American Association for Marriage and Family Therapyand the Director of the Journal «Cahiers Critiques de Thérapie Familiale et de Pratiques de Réseaux» (ed. De Boeck, Belgium).
His most relevant books are:
"Si tu m'aimes, ne m'aime pas", Le Seuil, Paris, 1989. Translated notably into English and Greek.
"Panorama des Thérapies Familiales" Le Seuil, Paris, 1995.
"Comment survivre à sa propre famille ?" Le Seuil, Paris, 2006.
"Où es-tu quand je te parle ?" Le Seuil, Paris, 2014.
"Vivre en couple, Plaidoyer pour une stratégie du pire" Le Seuil, Paris, 2017.