Paola POMPONI (UK)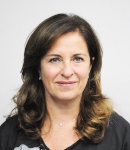 Paola Pomponi is an Existential Psychotherapist in private practice in central London, UK.
She has been one of the Funder Members of Federation for Existential Therapy in Europe (FETE).
From November 2019 Paola will hold the post of Chair of the Society for Existential Analysis (UK).
In addition to her Existential practice Paola is also a trained EMDR practitioner and a Psychosexual/Relationships Therapist. She is UKCP accredited and also member of BACP.
As part of the psycho-oncology Counseling Team of Macmillan cancer support, one of the major Cancer Charities in the UK, Paola provides support to Cancer Patients at Chelsea andWestminster Hospital in London. She studied at Regent's University where she obtained a Masters Degree in Counseling and Psychotherapy and an Advanced Diploma in Existential Psychotherapy.