Roberto OPAZO CASTRO (Chile)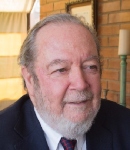 Director of the Chilean Institute of Integrative Psychotherapy.
Born in Santiago, Roberto Opazo studied psychology at Pontificia Universidad Católica de Chile, where he got his degree, with honours. He got his Ph.D. at the Universidad Nacional de San Luis, Argentina with the highest distinction.
Efforts, critical thinking and creativity have been Roberto's permanent companions. In 1983 he proposed an "Integrative Supraparadigm" which has been at the basic of the Supraparadigmatic Integrative Approach (EIS) developed by Roberto and his colleagues. As an integrative psychotherapist, Roberto has invested over 50.000 hours in individual psychotherapy with patients.
Roberto has published multiple articles and papers, and many book chapters; he has also edited different books and has published books being he the only author. His last book "Integrative Psychotherapy: Deepening Comprehension, Strengthening Change" (2017) has been considered one of the most outstanding books ever written on integrative psychotherapy.
Roberto Opazo has been teaching at different universities both in Chile and abroad; most of the time at the Integrative Psychotherapy Master's program. It is important to emphasize that the EIS integrative psychotherapy has been developed mainly by Roberto Opazo and his wife, Verónica Bagladi (Ph.D).
Roberto has presented his EIS' integrative approach in many different countries from Latin America, North America, Europe and Asia.
Through the years Roberto has received different and significant awards: the "Chilean Psychologist Award" from the National College of Psychologists, the "Sergio Yulis Award" from the Chilean Clinical Psychology Society, the "Grand Argentinian Psychology Award "from Mendoza University. He has been distinguished as an "Honorary Member" of the "Russian Professional Psychotherapeutic league". In 2004 Roberto was honored with the "International Sigmund Freud Award for Psychotherapy" given by the Vienna's Town Council and the World Council for Psychotherapy… "for outstanding contributions to psychotherapy development at an international level".
At the 9th world Congress for psychotherapy (Moscow, June 2020) Roberto will develop the subject "Integrative Psychotherapy: Deepening Comprehension, Strengthening Change" the same title of his last and very outstanding book.