Rony ALFANDARY (Israel)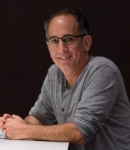 Dr. Rony Alfandary is a clinical social worker. He is a senior lecturer at the School of Social Work at the University of Haifa and at the Post-Graduate program of Psychoanalytic Psychotherapy program at Bar-Ilan University.
As well as practicing psychoanalytic psychotherapy, Rony writes and publishes poetry, prose and non-fiction. Among his recent publications is Seeking Psychic Space: Fundamentals of Psychodynamic Social Work, and Exile and Return: a Psychoanalytic Study of Lawrence Durrell's The Alexandria Quartet.
Rony's research interests are multi-disciplinary and include photography, hermeneutics, psychoanalysis, the relations between language, creativity and the sense of self and belonging, and the impact of the Holocaust upon 2nd and 3rd generations.
He is the Israeli delegate of the Israeli Association of Psychoanalytical Psychotherapy (IAPP) at the Executive Committee of the World Council of Psychotherapy (WCP) and at the European Federation of Psychoanalytical Psychotherapy (EFPP).
He is a founding member of the Israeli voluntary organization "The Road to Recovery" which helps hundreds of Palestinians children living in the West Bank and Gaza to receive medical care in Israeli hospitals.