Simon DU PLOCK (UK)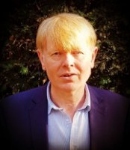 Professor Simon du Plock is Head of the Faculty of Post-Qualification and Professional Doctorates at the Metanoia Institute, London, UK. He is responsible for a number of research degree programmes, including a PhD in Psychotherapy, a DPsych in Psychotherapy by Professional Studies, a DPsych in Psychotherapy by Public Works, and a DCPsych in Counselling Psychology. Overall, the Faculty hosts approximately 260 research candidates and as many alumni, making it one of the largest concentrations of psychotherapy scholarship in the UK.
He is a Chartered Counseling Psychologist, an Associate Fellow of the BPS, and a Founding Member of the BPS Register of Psychologists Specialising in Psychotherapy. He is also a Fellow of the Royal Society for Medicine and a UKCP Registered Psychotherapist. He lectures internationally on aspects of existential therapy, and has authored over 80 books, book chapters, and papers in peer-reviewed academic journals.
His most recent book, Case Studies in Existential Therapy: Translating theory into practice, was published inLondon by PCCS Books in October 2018. This is a considerably expanded and updated version of a classic text with the same title, first published by Sage in 1997.
He is also Section Editor of 'Newly evolving forms of Existential Therapy around the world' and has contributed a chapter, 'Overview of geographic development', for The Wiley World Handbook of Existential Therapy, which was published by Wiley in Spring 2019).
Among other major publications last year, he contributed a chapter 'Philosophical Issues in Counselling Psychology', to David Murphy (ed) Counselling Psychology: A textbook for study and practice, BPS Textbooks in Psychology series, London: Wiley.
He has edited Existential Analysis, the Journal of the British Society for Existential Analysis continuously since 1993. In 2006 he became the first Western therapist to be made an Honorary Member of the East European Association for Existential Therapy, in recognition of his contribution to the development of collaboration between East and West European existential psychotherapy. In 2017 he was delighted to be invited to join the Editorial Board of Psichologija, a learned journal published by Vilnius University, Lithuania.