Verónica BAGLADI LETELIER (Chile)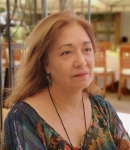 Clinical Psychologist graduated at Pontificia Universidad Católica de Chile. She got her Ph.D. from Universidad Nacional de San Luis, Argentina (with the highest distinction).
Veronica is Co-Director of the Chilean Institute for Integrative Psychotherapy, professor at the Adolfo Ibañez University Master's Program. She is also a lecturer for undergraduate, master's and doctoral levels at Pontificia Universidad Católica de Chile.
Veronica Bagladi is the Chilean delegate at the Latin American Federation for Psychotherapy, a Member of the World Council for Psychotherapy.
Verónica has published many papers and book chapters, being her more outstanding "Integrative Psychotherapy, from Chile with love" (co-author Roberto Opazo) published at the journal of the Society for the Exploration of Psychotherapy Integration and her chapter "Psychotherapy in Chile" from the book "Globalized Psychotherapy", edited by Alfred Pritz (2002).
Veronica has a wide clinical experience and has been honored as an outstanding supervisor. She has also been honored by the Chilean Society of clinical Psychology.
She has supervised over 100 theses from master's students and has developed a comprehensive research program on the "Integrative Supraparadigmatic Approach" (EIS). Her own research on EIS' therapeutic outcomes has been very outstanding.
At the 9th World Congress for Psychotherapy (June 2020, Moscow) she'll developthe subject "Integrative Psychotherapy and Therapeutic Results".