Wang XUEFU (PRC)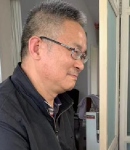 Xuefu Wang, PhD, having obtained his degrees in the fields of theology, literature, psychology and pastoral counseling, is the founder as well as the executive director of ZhiMian Institute for Psychotherapy in Nanjing, China. His past experience has been teaching at universities, seminaries, and psychological institutions. Dr. Wang is an active promoter as well as a pioneering practitioner of psychotherapy in the Mainland of China. He developed an indigenous Chinese approach called "ZhiMian Therapy" out of his experience of psychology practice and inspiration drawn from the modern Chinese thinker and writer Lu Xun. The approach of ZhiMianresonates deeply with the Western existential-humanistic psychology. Wang is also involved in international institutions as visiting scholar at Fuller Seminary Graduate School of Psychology, and editorial board member of American journals, such as The Journal of Humanistic Psychology. In recent years Wang has been working with American existential psychologists to promote East-West dialogue in the field of existential psychology.
Wang has published numerous articles and 8 books.
Dr. Wang Xuefu is the Winner of the Charlotte and Karl Budler Award of the Society of Humanistic Psychology of APA (Hawaii 2013).