Yaqui Andrés MARTINEZ ROBLES (Mexico)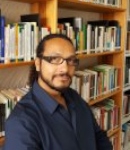 Ph.D in Psychotherapy; Current President of the Latin American Association of Existential Psychotherapy, CEO of the Circle of Studies in Existential Therapy at Mexico city, member of the editorial board of the Journal of Existential Analysis. Existential Phenomenological Therapist, trainings in Gestalt Therapy, Group Therapy, Music Therapy, and Transpersonal Psychology and Holotropic Breathwork; international guest in countries Argentina, Brazil, Colombia, Peru, Spain, France, England, India, Canada, and the U.S.; to spread and teach the Existential Perspective of life, sexuality, psychology and therapy.
Author of four books; "Existential Philosophy for Therapist" (2016), "Existential Therapy Volume 1" (2016), and "Existential Therapy Volume 2" (2017), "Introduction to Existential Coaching" (2018). Co-author of some others on Existential Therapyand/or Gestalt Therapy
He has publicationsin many journals asthe Journal of Existential Analysis, International Gestalt Journal, the Journal of the Spanish Association of Gestalt Therapy, the International Journal of Psychotherapy, and others.
Honorary Member of the Peruvian Society of Phenomenological-Existential Psychotherapy.