Zoran MILIVOJEVIĆ (Serbia)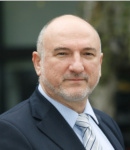 Dr. med. Zoran Milivojević, is a psychotherapist, transactional analyst, supervisor, teacher and author.
President of Serbian Union of Associations of Psychotherapists, and of TA Centre — Association of Transactional Analysts of Serbia.
Director of International Transactional Analysis Academy (Ljubljana, Slovenia) and of International Transactional Analysis Institute (Ljubljana, Slovenia). Professional director of Psychepolis Institute (Novi Sad, Serbia).
One of his achievements is general theory of emotions, applied to the field of psychotherapy.
He is also very present in regional media, through which he sends "therapeutic messages" to general population — a founder of social psychotherapy.
Author of ten professional books in which promotes psychotherapy and "emotional literacy". Several of them are translated to foreign languages.
Lives in Belgrade, Serbia, and in Ljubljana, Slovenia.