Alexander TABIDZE (Russia)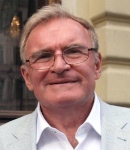 Clinical psychologist, member-correspondent of the Russian Academy of Natural Sciences (RANS), Professor, doctor of physico-mathematical Sciences, Director of the Research Center «Therapeutic pedagogy» ("PSYCHOPEDAGOGY") Ministry of education and science of the Russian Federation, Executive Director Of the Association of Music Psychologists and Psychotherapists( AMPP), full member of the all-Russian Professional Psychotherapeutic League (OPPL), head of modality, Moscow, Russia.
Director of the Moscow branch Of the scientific Center «PSYCHOPEDAGOGICS» of the Ministry of education of the Russian Federation since 1991 (Order-resolution of the state Committee of the USSR for public education, Society of psychologists of the USSR dated March 5, 1991, No. 115-10-1030.
Continues and develops the scientific ideas of prof. Rozhnov V. E. «Emotional and stress psychotherapy» and prof. Vostrikov A. A. «Psychotherapeutic (relaxation-suggestive) pedagogy».
He developed a new figurative four-part model of the psyche that corresponds to the modern bio-psycho-socio-spiritual approach in psychotherapy.
Introduced a new numerical indicator of a person's psychological health — the degree of emotional maturity.
He showed that the Spirituality of a person is due to the manifestation of the Instinct Of preserving the Species.
He showed That the instinct to Preserve the Species is manifested only in Emotionally Mature people, and for the Emotionally Immature, it is blocked.
He proposed a new paradigm of personality psychology, a new, unified theory of personality in psychology and psychotherapy.
He proposed a new theory of Constructive Emotional Intelligence .Author of more than 50 scientific papers on psychology and psychotherapy. Co-author of the books (together with prof. Vostrikov A. A.) «Psychotherapeutic Pedagogy», «Сourse of emotion culture. Emotional intelligence», «Self-Defense against Smoking and drugs» Leading offline and online schools »Psychotherapeutic pedagogy" for psychologists",
"Turnkey stress tolerance" for psychologists.