Alla SEMENOVA (Russia)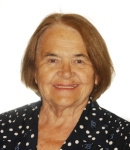 Alla Ivanovna Semenova is a pediatrician, psychotherapist, immunologist and homeopath. She has a medical degree, graduated in 1964 from the 2nd Moscow State Medical Institute named N.I. Pirogov and commenced practice as a paediatrician. She has worked in the following fields: paediatrics, immunology and allergies, psycho-therapy, homeopathy, non-traditional and restorative medicine.
Since 2000 Alla Semenova has been a valid member of the All-Russian League of Professional Psychotherapists and since 2002 a member of its Modalities Committee. Since 2002 she has supervised the project entitled 'Therapy by creative self-awareness. Sound Breathing -Eurhythmic Gymnastics of self-regulation'. Since 2012 she has been the author of the method and leader of the psychotherapeutic modality 'Creative therapeutic psycholinguistics'. Since 1995 she has been a member of the Russian Homeopathic Association, and since 2000 a member of the International Homeopathic League. She is an official professor and supervisor of International level in PPL, doctor of science in the field of "Control in Biological Systems" of the International Academy "Information, Communication and Control in Engineering, Nature, Society".
She has published five monographs and twenty articles on immunology, psychotherapy, homeopathy and pediatrics (1995-2016). She has published 27 thesis for international and All-Russian Conferences, where she has presented lectures, including conferences in Vienna (2002) and Sydney (2005).
She holds two State patents: Invention for «a Method of psycho-physical Training using the sounds of the Alphabet of the patient's native language: The Sound, Breathing — Eurhythmic Gymnastics of self-regulation' (2002); and Invention for 'a Method of Homeopathic Psychoanalysis' (2005).
By vocation Alla Semenova is a doctor — researcher. Her innovations include psycho-immuno-genetics, evolutionary immunology, homeopathic psychoanalysis, creative, psycholinguistic psychotherapy and pedagogy. She believes: the most impotent problems is the preservation of the civilization code of humanity.