Andrey STRELCHENKO (Russia)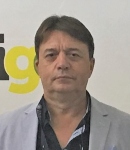 Andrey Strelchenko is a psychotherapist, doctor of medical Sciences, psychotherapist of the European register of psychotherapists, Full member of the all-Russian professional psychotherapeutic League, member of the Board of the Association of specialists in rehabilitation medicine and the National Academy of active longevity.
His Experience of psychotherapeutic practice is more than 30 years. Throughout his professional career he has been engaged in scientific,practical and applied aspects of improving the professional reliability and stress resistance of a person in extreme situations. Andrey Strelchenko is author of training programs on stress management, conflictology, communication, motivation, success, professional reliability, psychotherapy of healthy, active longevity.
He is the author of more than 180 scientific and popular publications, including books: «Chinese rod», «Challenges of our time. The mission of psychotherapy», «the Fifth element of active longevity», «My favorite crisis», «The Art of happiness. Self-instruction.»