Edmond EIDEMILLER (Russia)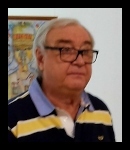 Doctor of Medicine, Professor, Department of Psychotherapy, Medical Psychology and Sexology, North-Western State Medical University named after I.I.Mechnikov.
Chairman of the St. Petersburg branch of the Association of Child Psychiatrists and Psychologists, Deputy Editor-in-Chief of the journal Mental Health Issues for Children and Adolescents.
Member of the editorial boards of journals: «Clinical Psychology and Psychotherapy», «Mental Health», etc.
Co-author of the methods of psychological research — «analysis of family relationships» (AFR), «Growth. Sex. Role» (G.S.R).
Co-author of methods of psychotherapy: Analytical-systemic family psychotherapy and Short-term analytic-network psychodrama (SANP).
Edmond Eidemiller is graphic artist. He had had 4 personal exhibitions. Some theoretical provisions of the concept of «pathologizing family inheritance» was embodied in the author's creative work.