Ekaterina MEN' (Russia)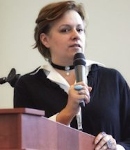 President of the Autonomous Non-profit Organization "Autistic disorder center: education, research, rights defense". Autistic disorder expert in the Practical Community "Preventive Medicine". Co-author of adaptational program and co-organizer of the first national inclusive environment model of child education with RAS "Inclusion 1465". Founder and content-director of the Annual International Science-Practical Conference "Autistic disturbance: Challenges and Solutions". Ekaterina was one who proposed to open new educational track in the professional Education System. That was ABA-therapy. And she was the first program author and developer in the field of professional education of specialists working with children with ASDs based in Russian institutes of higher education.
2014-2016: Public member of the 1st Council at the Ministry of Health in Russian Federation (Head of Committee for the protection of patients' rights and work with the social organizations). Concept for organizing medical care for children with ASD at the Public Council of the Ministry of Health of the RF Group Head.
From2017 — MemberoftheExpertCouncilfor the Education providing to persons with ASD at the Ministry of Education of RF.
Ekaterinawas one who proposed to publish and edit a number of foreign books on autism and ABA-therapy for autism (such as Shramm R., Children autism and ABA, 2013; Barbera M., Children autism and verbal-behavior approach, 2014; Lif R, McIken J, Jasom J.,A Work in Progress: Behavior Management Strategies and a Curriculum for Intensive Behavioral Treatment of Autism, 2015 and others).
Journalist and columnist in the web-portal «Милосердие.ру».
Education:
GITIS, department of general stage management (not finished)
Moscow State Academy of Print (PrintingInstitute), Publishingandbibliography faculty
Graduateprograminbibliography
Certificates:
2014 — International Certificate at Pyramid Education Cons. in PECS (Pictures Exchange Communication System). Level1.
2014 — Certificate «Quick Start Tips for Supplements and Special Diets» from Autism Research Institute (USA). Teacher Dana Laake, RHD, MS, LDN.
2014 — Certificate «Understanding the Brain: The Neurobiology of Everyday Life», University of Chicago. Teacher Peggy Mason, Professor Neurobiology.
2015 — International Certificate at Pyramid Education Cons. in PECS (Pictures Exchange Communication System). Level2.
2015 — The Dynamic Learning Maps® (DLM®).
2015 — Educational Kinesiology Foundation, program Brain Gym. Level 1.
2016 — BMS (Behavior Management System). Teacher Kirk Henderson, Canada.