Elena ROMEK (Russia)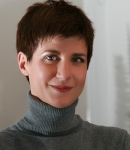 Doctor of Philosophy, Professor of SFedU, author of more than 70 works on the history and theory of psychotherapy, Albert Ellis Institute scholarship holder (New York, 2006), REBT consultant, presenter of the REBT training program, author and presenter of the training program "Existential counseling by A. Ellis method", a speaker of the Association of Cognitive Behavioral Therapy of Russia.
Elena Romek graduated from the Faculty of Philosophy and Post-Graduate School of Rostov State University with a PhD in Philosophy. Since the early 1990s she took an active part in the development of psychotherapy in Russia: in 1992, she participated in the Russian-Dutch project "Person CenteredApproach in Education: School of the XXI century" (Rostov-on-Don), in organizing the work of the first study group on psychodrama of the Moreno Institute (Uberlingen, Germany) in Russia (Rostov-on-Don, 1993). In 1996, she conducted a study of the historical premises of psychodrama and analytical psychology at the University of Erlangen-Nuremberg (Germany), which was continued in her post-doctoral studies at Rostov State University. In 2002, Elena got a degree of Doctor nayk for a dissertation, entirely devoted to the development of psychotherapy as a new science and profession. She actively collaborated with the Moreno Institute (Uberlingen, Germany), the International School for Existential Counseling (MIEK, Rostov-on-Don), she is a member of the editorial board and an author of the "Existential Tradition: Philosophy, Psychology, Psychotherapy".
In 2006, according to the results of the competition, Elena got a grant from the Albert Ellis Institute and took part in the Summer Fellowrship Program of this institute. Since 2006, she has been conducting training programs on REPT, as wellason Existential Counseling by Albert Ellis method. She is a member and speaker of the Association of Cognitive Behavioral Psychotherapy of Russia.
In 2014, Elena Romek organized and held at the Southern Federal University an international conference dedicated to the 130th anniversary of Sabina Spielrein, in which leading researchers of S.N. Spielrein from around the world.
Elena Romek is a professor at Southern Federal University, a REBT consultant, and the author of more than 70 scientific papers on the history and theory of psychotherapy, including the monographs "Psychotherapy: The Birth of Science and Profession" (2003) and "Training in Pleasure" (2003, co-authored with В. Romek), awarded the prize «Golden Psyche» in the nomination "The best project in practical psychology".