Eugeny GOLOVINOV (Russia)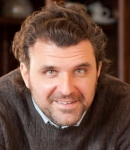 Consulting psychologist, hypnologist, certified specialist in Erikson hypnosis, mesmerism, fascination, non-verbal communications and short-term therapy, practical psychologist, professor in Moscow Psychoanalysis Institute.
Eugeny was an onscreen moderator of the program "Your personal psychologist" in 2007.
Eugeny Goloviniov has Russian and international diploma and certificates in psychology and hypnosis: Moscow Psychoanalysis Institute; Differential Psychology International Institute; Institute of Clinical Hypnosis of the Russian Psychotherapeutic Association; Neuro-Linguistic Programming Institute; Group and Family Psychotherapy Institute; French Association of Medical Hypnosis; Milton Erikson Society (USA); British Hypnosis Association; Provocative Therapists of Franck Farelli Association; International Association of Generative Changes (USA); ISI-CNV — of the International Institute of NLP, hypnosis, non-verbal communications, leadership and coaching (Marco Paret).
Studied from masters in Yan shen gun, bagua chjan, Chikung and daos alchemist.
Professional experience — more than 15 years.