Igor LYAKH (Russia)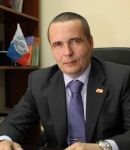 Igor Lyakh is a psychotherapist, counselor. He specializes in working with married couples and families,neuroses, emotional disorders, adjustment disorders, dependence disorders,acute crises, emergencies. Igor Lyakh counsels and provides psychotherapeutic help to the clients and patients from the Russian Federation and from abroad. He provides supervision and personal therapy to psychotherapists, psychologists and counselors.
Igor Lyakh started his medical practice in 1994as psychotherapistsin the leading private psychotherapeutic clinic of Novosibirsk.The teacher of higher school, the teacher of Department of clinical psychology of Novosibirsk state medical University since 2017, since 1998 — the head of the Novosibirsk regional Department of the all-Russian Professional Psychotherapeutic League.
One of the authors of the concept of polymodal professional supervision, the authors method in joint and separate family counseling. Author of scientific articles, publisher of the annual collection of articles of psychotherapists of Siberia. Regularly participates in television programs, radio programs, gives interviews to popular publications.