Irina ABAKUMOVA (Russia)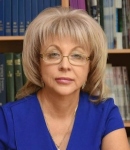 Abakumova Irina Vladimirovna (Rostov-on-Don).
Doctor of Psychology, professor. Corresponding Member of the RAE. Dean of the faculty «Psychology, Pedagogy and Defectology», professor, head of the chair «General and Advisory Psychology» of Don State Technical University.
Member of the expert council of the Higher Attestation Commission for Psychology and Pedagogy. Chairman of the doctoral dissertation council at SFU. Member of dissertation councils at South Federal University and Kuban State University.
Member of the Presidium of Educational-methodical association for Psychological Sciences, Chairman of the regional ЕMA for Psychology. Expert KIAS «Examination of Educational Projects», the competition commission «Encouragement of the best teachers» of the Ministry of General and Professional Education of the Rostov Region, the Federal Service for Supervision of Education and Science.
Deputy editor-in-chief of the Russian Psychological Journal, the journal «North Caucasian Psychological Bulletin». Member of the international editorial board of the journal «Izvestia Southern Federal University». Member of the editorial board of the journal «Humanitarian, Socio-Economic and Social Sciences».
Member of the Expert Council of the Russian Psychological Society. Member of the Federation of Educational Psychologists of Russia. Member of the Association of Practical Psychologists of Russia
The author of more than 200 publications.