Irina PANYUKOVA (Russia)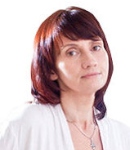 Panyukova Irina Anatolyevna, member of the Supervisory Board of SRS National Association for the Development of Psychotherapeutic and Psychological Science and Practice "Union of Psychotherapists and Psychologists".
Candidate of Medical Sciences, Associate Professor of the Department of Psychotherapy and Sexology of the Russian Medical Academy of Continuing Professional Education. Psychiatrist, psychotherapist, sexologist. Professional experience over 20 years.
Author of continuing education programs in sexology for doctors and psychologists, including the program "Psychotherapeutic Sexology".Expert of journal «Psychologies». Constantly practicing therapist.