Irina SOKOLOVSKAYA (Russia)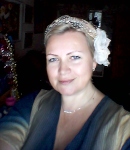 Doctor of Psychology, Professor at the Department of Social, General and Clinical Psychology, Russian State Social University, Moscow.
Academician of the Academy of Imageology (AIM).
Director of the Educational and Cultural Center «Inter-Sputnik», Moscow.
Full member and general manager of a religiously-oriented modality of the Professional Psychotherapeutic League of Russia (PPL Russia).
Vice-President of the Charity Fund for the Support and Identification of Creative Skills of Orphans and Disabled Children «Your Angel».
Member of the board of experts at the «Russian Academic Foundation» by Roman Putin.
Full member of the «Russian professors meeting».
Federal expert of the National Agency for Higher Education.
Organized and participated in the following projects:
1. International scientific-practical conference «Man in the modern world: identity and intercultural communication» in different countries of the world;
2. Philosophical and psychological problem of human actions studies;
3. Social, psychological and environmental factors of human health — collection of papers «Psychology of health. Sociological-ecological-psychological study of human health»;
4. Spiritual and moral aspects of the ethical and aesthetic development of the younger generation in education, as a guarantee of the health of the nation — author of a school study book «Fundamentals of etiquette, elementary aesthetics and ethics in education»;
5. Summer linguistic camp in Chicago (USA) for students and adults.
Area of interest: author of more that 100 publications in the field of religious psychology, religious bigotry and extremism, spiritual safety and mental health.