Larisa RUDINA (Russia)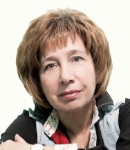 PhD, Associate Professor of The Russian Presidential Academy of National Economy and Public Administration (RANEPA); Full member of Professional Psychotherapeutics League; Expert trainer of Healthy Interactions, USA.
Professional coach, International Coaching Academy Maximum, Russia.
Speaker of the federal training programs for the doctors of the Russian Federation (supported by Novartis, Nova Nordisk, Sanofi, and other).
Creator of the International Health Education Program (run together with the specialists of the National Medical Research Center for Endocrinology and HealthyI).
Laureate of the 'Check-up Agents' Russian national competition (competition of projects for promotion of preventive care and healthy lifestyle).
Golden medalist of N. Moiseev «For achievements in education and science».
Moscow, Russia.