Lev SURAT (Russia)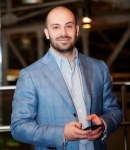 PhD in Economics.
Rector of the Moscow Institute of Psychoanalysis — non-state educational private institution of higher education from the year 2011.
2007 — graduated from the International Management Institute of the Moscow State Institute of International Relations (MGIMO).
2007 — graduated from the State University of New York, program in Science Technologies and International Relations.
2011 — received his PhD from the State Academy of Specialistsin theInvestment Sphere.
2018 — completed professional retraining at the SKOLKOVO Moscow School of Management, Rectors' School 14: Managementof theInstitute Transformation program.
Since 2011 Dr. Surat holds the post of rector and has been pricelessly contributing to education, scientific and outreach activities, pedagogics, and sociocultural society development.
Dr. Surat has started his professional development right after the University graduation in 2007. He had been working at the Moscow Economics Institute for 4 years. There he changed several positions: assistant, Senior Lecturer at the Department of Economics and Management and Vice Rector.
Dr. Surat headed the Moscow Institute of Psychoanalysis in 2011. Best specialists from professional field have been involved in the Institute as scientific and pedagogical stuff during Mr. Surat leadership and at his initiative. More than 85% of Institute professors have academic degree. The number of students increased from 400 to 7000. Institute started to develop its own research activities. Starting from the year 2011 Institute has received more than 200 grants from the Russian Humanitarian Science Foundation, 7 grants from the Grant Council of the Russian Federation President for young Russian scientists to conduct research in the field of experimental psychology.
The successful strategy of the Institute complex development implemented by Lev Surat has allowed the Institute to become quickly one of the most effective universities in Russia. The Moscow Institute of Psychoanalysis is regularly recognized as an effective university according to the annual monitoring of the Universities' efficiency made by Ministry of Education and Science in Russian Federation.
Dr. Surat is a member of the Expert Council on State Youth Policy affiliated with the Federation Council Committee on Social Policy, a member of the Expert Council on International Affaires affiliated with the Education Committee of the Russian Federation, a member of the Expert Council of the Federal Research and Methodological Centre for Tolerance, the Vice-President and a member of the Supervisory Board of the Psychotherapists and Psychologists Union, an honorary member of the International Association of Logotherapy and Existential Analysis of the Viktor Frankl Institute (Vienna), an honorary professor of the U.A. Dzholdasbekov Academy of Economics and Law (Kazakhstan), and the winner of the Rector-2014 competition.
Dr. Surat demonstrates active civic engagement. He pays special attention to integrational education projects development, to enhancing the sphere of civic involvment in Russia, and to broadening partnership relations of the Institute within the framework of international cooperation.
The sphere of Rector's professional interests includes innovational management, organizational psychology, HR management and business coaching.