Lidia SURINA (Russia)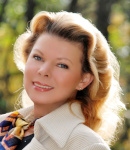 Lidia Surina is a PhD, analytical psychologist, psychotherapist, Jungian analyst, astropsychologist, coach. She specializes in working with life crises, individuation (spiritual and personal growth), neuroses, emotional disorder, symbiotic and narcotic dependence disorders. The professional preferences of Lidia Surina are analytical and transpersonal psychology, psychogenetics, Gestalt therapy, psychosynthesis, astropsychology, depth and family coaching, methods of depth psychology of the unconscious ("Voice Dialogue" — working with sub-personalities; active imagination, trance techniques, conscious dream, and others).
Lidia Surina was awarded the Honorary Diploma of the International Professional Medical Association and the Golden badge «Elite». The biography of Lidia Surina was included in the Swiss encyclopedia «Who is who in Russia» (2005)/
Lidia Surina is Ph.D. in Chemistry. The scope of scientific research in the field of physical chemistry was the mechanism of heterogeneous catalysis of organic compounds. Currently she conducts research in the field of psychology of the unconscious human psyche.
Lidia Surina is Full Member of Professional Psychotherapeutic League of Russia (2005), co-chair of the modality "Jungian analysis" (2013), director of psychological center "Creative Life" (2006).
Lidia Surina is a well-known organizer. She is the author of the concept of interdisciplinary approach to important psychological and psychotherapeutic aspects. Annually she organizes international multidisciplinary Jungian conferences and symposiums — both within the Congress OPPL and independently.
Lidia Surina is a renowned researcher. She is the author of books and over 40 scientific works in psychology, cultural studies and Chemistry, spoke at more than 35 scientific conferences.
Lidia Surina is the author of psychological and psychotherapeutic methods to help people to recognize the hidden motive forces of his inner world:
Method of individual counseling and group psychological work, unifying psychotherapy and coaching,
A new direction of spiritual mastery «Life Creativity», which includes educational, journalistic and media projects, system of transformational training and individual psychological and coaching work,
"Key Master" — the method based on understanding and synthesis of opposites, the conflict in the unconscious area of the psyche,
The founder of the author's School of Depth (archetypal) Astropsychology and psychotherapeutic method of Astrodrama ("Archetypal Theatre of Astrodrama"),
The author and host of desktop transformation psychological games, including astrological ("AstraLida: Aspects & Planets"),
Author and presenter of programs on TV channels NTV+ (since January 2004).
Lidia Surina is an infamous pedagogue in higher education (Moscow State University named after M. Lomonosov and TV Academy).
Being a popularizer of applied psychology and psychotherapy, Lidia Surina regularly participates in television and radio programs of Russia and the CIS countries.