Albina LOKTIONOVA (Russia)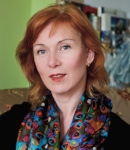 Loktionova Albina V., M.D., Director, founder of the Institute of Integrative Childs Psychotherapy& Practical Psychology «Genesis» (Moscow).
Child, developmental, couples psychotherapist (gestalt and existential psychotherapy, systemic family work), the therapist of European registry, of the registry for child's therapists Vienna and Austria, the training therapist, supervisor.
Lecturer of the Faculty of postgraduate and professional development at psychology, Moscow State University. Lomonosov
Author and trainer of long-term training programs in child and family therapy.
Leading for trainings and workshops for teens and adults.
Expert «Psychologies» magazine, radio and television programs, author of numerous articles, translations and of book «Integrating: intrapersonal-interpersonal-systems approach in childs psychotherapy».