Lubov GRIGOROVITCH (Russia)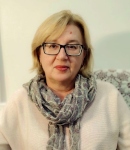 Doctor of Psychology, professor, specialist in professional education, author of more than 110 articles, textbooks and workbooks for students on psychological and psycho-pedagogical specializations.
Lubov Grigorovitch is a professor of the Chair of Personal Psychology at the Russian State Humanities University (RGGU), a professor of the Chair of Developmental Psychology at the Moscow Pedagogical State University (MPGU), a head of Masters' programs "Social Health Psychology" and "Child Practical Psychology and Engineering of Developmental Environment".
Lubov Grigorovitch is a Member of Dissertation Council at MGPU, a Main editor in the magazine "New in psycho-pedagogical researches" (is included into the list of magazines, recommended by VAK RF).