Luidmila BASKAKOVA (Russia)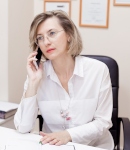 Clinical psychologist, family psychotherapist, neuropsychologist, systemic psychotherapist. Head of the psychological service of Novosibirsk medical centre. A full member of OPPL, Head of the "Neuropsychology" section at OPPL, OPPL regional lecturer.
The author of concomitant, hardware treatment: Micropolarization and Neuropsychology.
Leader of the training courses "Child Neuropsychology", "Attention deficit hyperactivity disorder", «Impaired brain function in dementia».