Maxim GONCHAROV (Russia)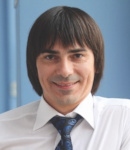 Dr. Maxim Goncharov, MD, PhD, psychiatrist, psychotherapist in private practice, international master trainer of International Academy on Positive and Transcultural Psychotherapy (IAPP), member of the board of directors of the World Association of Positive and Transcultural Psychotherapy (WAPP). He is a leader of Positive Psychotherapy
Dr. Maxim Goncharov has long experience supervising and training psychotherapists and medical doctors in positive and transcultural psychotherapy (after N.Peseschkian) and psychosomatic medicine.He is actively involved in research looking at therapeutic relationship, emotional security and countertransference. He is a author of the conception and the book called "Emotional security in psychotherapy practice". Also is an author of the book "Conflict operationalisation in Positive Psychotherapy" and "Why psychotherapist is better then friend's shoulder". He was also translator and the editor of Russian translation of the book "Operationalized psychodynamic diagnostics — 2".
In 2007, Maxim Goncharov was awarded with international prize from the International Academy of Positive and Transcultural Psychotherapy for innovations.
Now he has great training work in Russia, Germany, USA, China, Turkey, Romania, Australia, Albania.