Natalia BELOPOLSKAYA (Russia)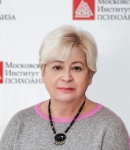 Doctor of Psychology, Dean of the Clinical Psychology at the Moscow Psychoanalytical Institute. Professor of the Child and Adolescent Psychiatrics and Psychology at the Russian Medical Academy of the Continuous Post Qualifying Education in Russian Federation. Honorable Worker of High Education. Working experience — 45 years.
Natalia had been working for 17 years at the medical-pedagogical advisement in the Institute of Defectology (the Institute of correctional pedagogy). Gave lessons on the clinical psychology at the Faculty of Fundamental Medicine of the Moscow State University of Lomonosov. Developed and hold courses in clinical and special psychology in MGPPU, such as "Developmental Psychology", "Psychology for Intellectual Incapacity", and others. Natalia has wide consultancy practice. Leads the Master's program "Clinical-psychological consultancy with the basics of psychotherapy".
Author of more than 200 articles. There are monographs among them. The most famous are "Psychological diagnostics of children with special needs", "Self-actualization of troubled adolescents", psychological novels "Such non-format children" and "Such non-format grownups".
Author of more than 15 original and modified psychological methods, among them "Sex-age identification" and psycho-diagnostic complex "Cogitosha".
Natalia had been developing and introducing projects in the Human Relations sphere in avia company "Transaero", in the airports Sheremetievo and Domodedovo during 10 years in parallel with her main specialization. She lead diagnostics and psychotherapeutic work with personnel.
Also Natalia hold researches with the help of scientific foundations in Russian Federations based in the Sclifosofsky Institute and Institute of plastic surgery and cosmetology.